At a glance
Expert's Rating
Pros
Laser really works
Good balance between size and power
No need to keep the trigger depressed
Cons
Small bin can clog easily with pet fur and hair
Only as powerful as the V10
Our Verdict
It's slimmer, lighter and less pricey than the V15 but has the same flagship features, including the green laser for illuminating dust and hair. As a trade-off, it's not as powerful and has a smaller bin but for many, this will be a compromise that's easy to make.
Price When Reviewed
$649.99
Best Prices Today: Dyson V12 Detect Slim
$649.99
$649.99
This slimmed down Dyson has many of the same key features as the flagship V15. Its green laser lights up crumbs and hair so they're easy to spot, and its full colour LCD screen displays a visual breakdown of the dust and dirt you're vacuuming up.
V12 Detect Slim design and appearance
The Dyson V12 Detect Slim looks – well, like a Dyson. And that's really the point of its appearance. Its garish colour scheme and distinctive shape means that the nanosecond that someone enters your home, they know right away that you have a DYSON and not some average old cordless cleaner.
Does it look good? If you want an attractive cordless vacuum cleaner, I'd point you in the direction of the Samsung Bespoke Jet. But the problem with that is that most people have never heard of it, so it doesn't have the same effect as saying: oh sorry I didn't hear the phone ring, I was just vacuuming with my brand new DYSON.
But there's a reason Dyson has the reputation it does. And the V12 Detect Slim has a lot going for it
It has the characteristic Dyson laser gun form. And one nice feature of this model is that, although the grip is the same as other V models, you don't need to hold down the trigger to vacuum. It makes a surprising amount of difference: it's much easier to use.
The trade-off is that it doesn't offer the same battery protection as the trigger button design. To conserve battery life, you should switch if off when you're not vacuuming. Don't leave it on when you pause to move a chair.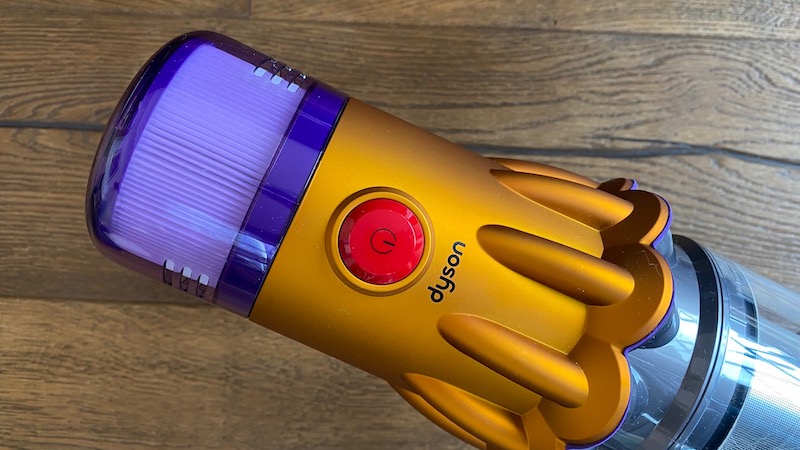 Emma Rowley / Foundry
And you'll need two hands to turn it off as the the on/off switch – a big, red clown nose of a button – is nowhere near the trigger. It's on top of the machine. Another bit of weird button placement is the separate key, right underneath the colour screen, that allows you to select the vacuuming mode from Eco, Medium and Boost.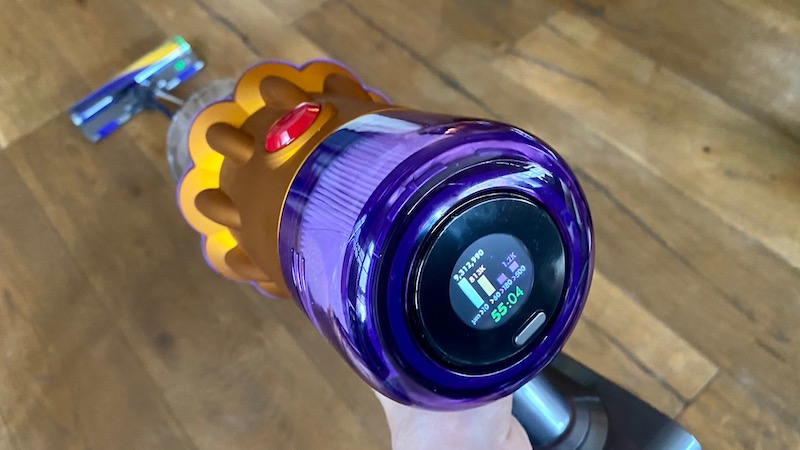 Emma Rowley / Foundry
The 0.35 litre bin is easy to access, although you have to remove the wand to do so. There's an handy slide mechanism that opens the bin and dislodges its contents, but you'll probably have to manually remove the the last few coils of hair and fluff balls. Bear in mind that if you have a lot of pet hair to vacuum up, the filter can get clogged quite easily. But it is removable and washable by hand.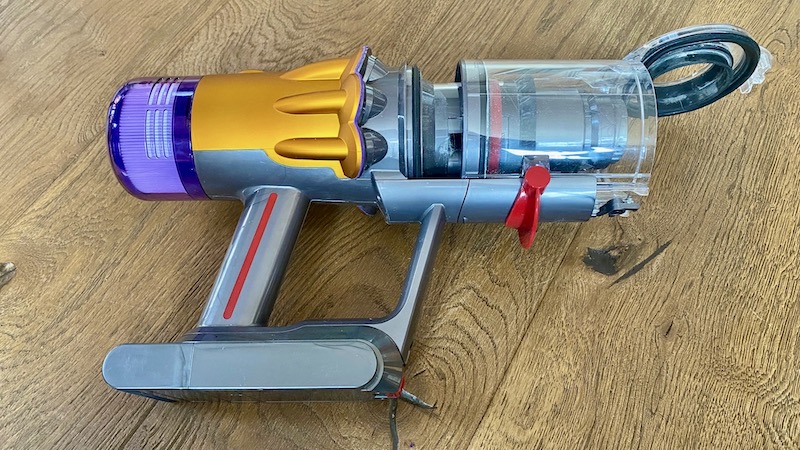 Emma Rowley / Foundry
Dyson V12 Detect Slim performance
The V12 has suction of 150AW, which is the same as the V10, Dyson's 2018 cordless vacuum release. This will be plenty for hard flooring and most carpets, although if you have very deep pile carpets and pets, you might want to opt for something more powerful. 
I found it to be a very effective vacuum, with a worthwhile trade-off of power against weight and price.
What really sets the V12 Detect apart from other Dyson cordless models is its flagship features. If you're using the main Laser Slim Fluffy cleaner head, a green laser will illuminate the floor in front of you, making hairs, crumbs, dust and spills on the floor stand out (although you can switch it off).
I've used vacuum cleaners with lights on the front (which are very handy for vacuuming in dark corners) and wasn't expecting the laser to be significantly better.
But it is. It's so extremely effective that I started switching off lights before cleaning, as it improves visibility so much. I have a cat with luxuriant fur, considerably more of which seems to live on my floor than on the cat itself. Pet hair is an ongoing problem. The laser really helped to target it all.
The only issues with the laser are a) that if you fail to vacuum for a while, it is a truly shame-inducing experience and b) if you return to a freshly vacuumed room ten minutes later, it'll point out all the hairs you missed and those that have settled on the floor in your absence. It is, arguably, a little TMI.
Emma Rowley / Foundry
The other key feature is the piezo sensor and LCD display, which work together to measure and display the volume and size of particles you're vacuuming. Personally, I didn't get a lot from it and found it be be a bit of an empty gimmick.
The screen's much more useful function, however, is to display the vacuuming time left in whichever mode you're using. From a full battery, you'll get 59 minutes in Eco mode, 36 in Medium and 8 in Boost. It charges in four hours.
If there are any problems with the vacuum, the screen will also display troubleshooting information, although this was not something I experienced while testing it.
Which accessories does the V12 Detect Slim come with?
Dyson accessories vary, depending on which country you live in and which model you buy. The key ones are the Laser Slim Fluffy cleaning head and the Hair Screw tool, which twirls hair away and into the bin. If you often find yourself having to pull or cut long hairs from your vacuum cleaner roller, you'll find it extremely effective.
In the UK, you can get the Absolute (£529.99), or the Absolute + (£559.99). The former comes with the Laser Slim Fluffy cleaner head, the Hair Screw tool, the Motorbar cleaning head, a crevice tool, combination tool, the up-top adapter, docking station and charger.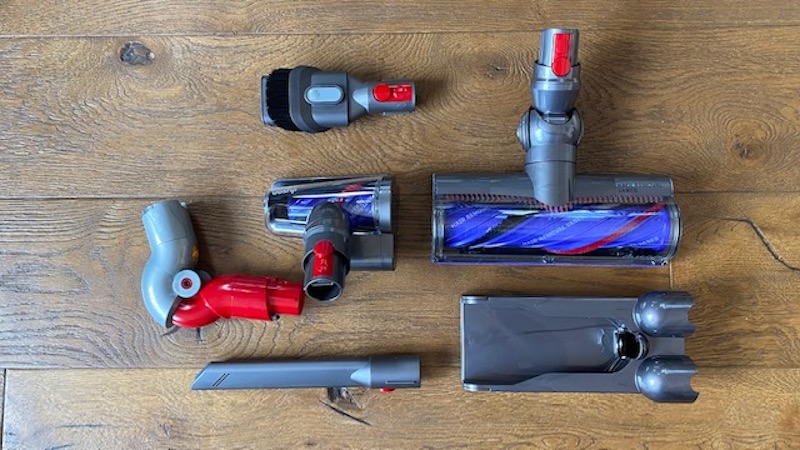 Emma Rowley / Foundry
The Absolute + additionally comes with a mattress tool for deep upholstery vacuuming, and a wand clip, so you can keep a couple of key tools on the vacuum with you as you go.
In the US, the V12 Detect Slim comes with the Laser Slim Fluffy cleaner head, the Hair Screw tool, the Motorbar cleaning head, a crevice tool, combination tool, wand clip, docking station and charger.
If you buy the Absolute model, which comes in a gold colourway, you'll also get the up-top adaptor (which allows you to create an angle between cleaning accessory and vacuum), fabric and mattress tool and a mini soft dusting brush.  
Should I buy the V12, the V15 or another Dyson cordless?
The Dyson V12 Detect Slim has many of the same features as the flagship V15 Detect. Most notably, it features the green laser, piezo sensor and full colour LCD screen. But it's about 20% lighter than the V15, weighing just 2.2kg (5.2lbs). If you find the traditional Dyson cordless cleaners a bit heavy, this could be the one to go for.
As a tradeoff, the bin is less than half the size, so you'll need to empty it far more often and it's less powerful, at 150AW versus the V15's 240AW.
But it's less pricey as well: $649.99/ £529.99 versus $749.99/ £629.99 (in the UK, this is for the Absolute versions of each model).
If you're deciding between the V12 and another one of Dyson's lighter cordless cleaners such as the Micro or the Omni-glide, it's worth noting that the V12 is an in-between size. While it's not as large as the V15, it's not a mini cordless like these models.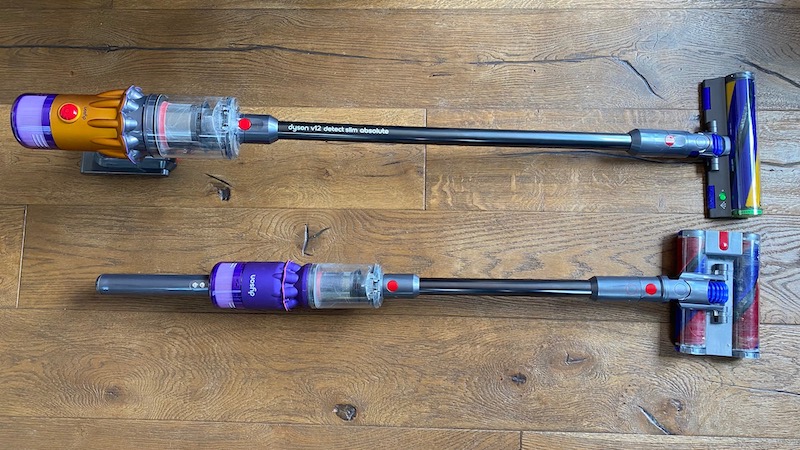 Emma Rowley / Foundry
The V12's suction is three times more powerful than the Omni-glide and the bin is a third larger.
Dyson V12 price and availability
In the US, you can buy the Dyson V12 Detect Slim from Best Buy, Walmart or Dyson itself. At the time of writing, there's no price advantage from choosing any specific retailer as all are selling it for $649.99, but if you buy the Absolute model, you'll get more accessories.
In the UK, it's widely available from retailers including AO.com and Currys with a price difference of less than a pound, so it makes most sense to look for free delivery.
Verdict
While the V12 Detect Slim doesn't have suction that's as strong as the V11 or the V15, it's lighter and you won't have to hold down the trigger as you vacuum. If you don't have a huge property, or deep-pile carpets that need maximum power, the V12 could be the perfect compromise between size and performance. Plus, it has Dyson's latest features: the brilliant green laser and piezo sensor.
If you'd like to see other options, check out our round-up of the best vacuum cleaners we've tested or find out which Dyson cordless vacuum is right for you.
V12 Detect Slim specs
Weight: 2.2kg/ 5.2lbs
Suction: 150AW
Dustbin size: 0.35 litres/ 0.1 gallons
Charging time: 4 hours
Running time: 60 minutes Eco; 5 minutes Boost
Source link