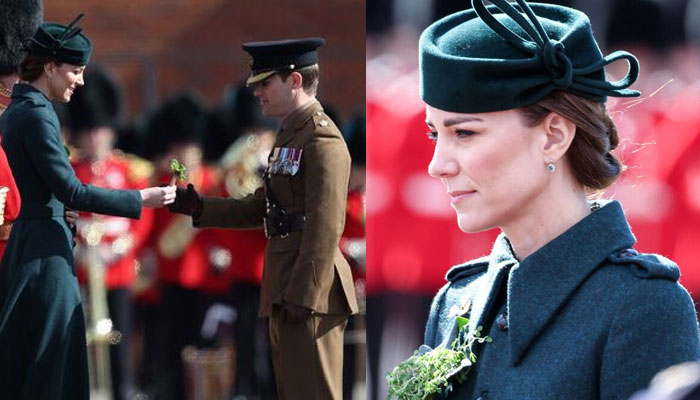 Kate Middleton stole the limelight in striking green outfit as joined her hubby Prince William on St Patrick's Day Parade Thursday.
The Duchess of Cambridge, accompanied by William, visited the 1st Battalion Irish Guards at the St. Patrick's Day Parade, Mons Barracks in Aldershot, resuming an annual tradition suspended two years ago due to the Covid crisis.
Kate gave a clear nod to Ireland by wearing a green Laura Green London dress coat. The much-loved royal looked drop dead gorgeous as she completed the outfit with heels and a matching hat, partially covering her hair gathered in a low bun.
William's sweetheart accessorised her look with diamond and sapphire earrings and a stylish golden Shamrock brooch.
Meanwhile, Prince William – the Colonel of the Irish Guards – looked dapper donning his Irish Guard uniform.
During the visit, Moreover, during their visit, Kate got acquainted with the battalion's mascot, an adorable Irish Wolfhound called Turlough Mor – but known as Seamus. While Prince William saluted the dog, Kate petted him and was helped to attach a sprig of shamrock on his collar. 
Prior to today's visit, Kate and William shared their best wishes for St Patrick's Day on Twitter. They wrote via their Kensington Royal's account: "Happy #StPatricksDay wherever in the world you're celebrating today!" 
Royal fans were over the moon to see Kate and William together, and many praised Kate's decision to wear green on St Patrick's Day. 
On fan wrote: "Wonderful in a very elegant green coat, always smiling. They are a beautiful couple". Another gushed over the couple and penned: "Always perfection".
Source link